Peards Albury Landscape Supplies
The most cost effective of four available finishes.  FormBoss® galvanised steel is mild steel that is hot dipped to ensure it handles the harsh Australian climate.
Galvanised steel has a matte grey appearance and will lighten over time. Galvanised steel is almost grey in appearance and will blend into any type of environment.
As galvanised steel is completely neutral in colour it will not take the focus off other features in your garden, instead accentuating your existing landscape.
Gauges Available: 1.60mm, 2.00mm, 2.50mm. 
Heights Available: 75mm, 100mm, 150mm, 185mm, 230mm, 290mm, 390mm, & 580mm.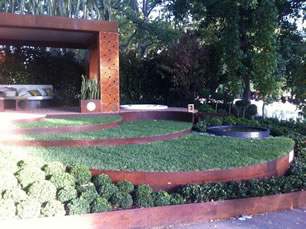 REDCOR® steel is fast becoming the most popular of the FormBoss® steel edging finishes. Not only does REDCOR® steel have a long life expectancy, its slight variation in colour and appearance makes for spectacular viewing.
REDCOR® steel develops a protective layer on its surface when exposed to the weather eliminating the need for painting or galvanising.
Once exposed to the elements it can take anywhere from 4-16 weeks to achieve that nice rustic appearance.
REDCOR® can be used as a feature item or to blend into your existing designs.
Gauges Available: 1.60mm, 2.00mm, 2.50mm. 
Heights Available: 75mm, 100mm, 150mm, 185mm, 230mm, 290mm, 390mm, & 580mm.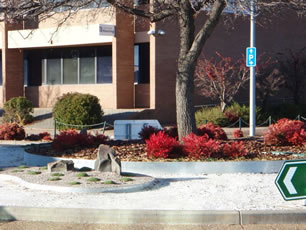 Developed by a large Japanese corrosion research and development team and tested by the French corrosion institute, ZAM® was engineered for the automotive industry and designed for countries with the harshest weather conditions.
ZAM® is around half the price of stainless and almost 95% as efficient. ZAM® has 3 times greater corrosion resistance than galvanized steel.
ZAM® edging has a high glossy satin finish and is very compatible with other landscape materials. ZAM® will stand the test of time and have your home and garden looking bright and sleek for life.
Gauges Available: 2.00mm & 2.50mm. 
Heights Available: 100mm, 150mm, 185mm, 230mm, 290mm, 390mm, & 580mm.
FormBoss® Three Tiered Planters are available in two sizes 390mm and 580mm.
All Three Tiered Planters are are supplied ready install and do not require stakes, they are only available in a REDCOR® finish.
FormBoss® Three Tiered Planters are an ideal way to create an instant patio kitchen garden or raised floral feature within an existing garden.
Suitable for growing vegetables, herbs and small trees such as dwarf apple or citrus varieties.
Available in the popular rustic "weathered steel" look they are a perfect complement to a contemporary landscape design.
Pre-made rings of all shapes and sizes, great for tree rings, planters and designer gardens.
We frequently create circular planter beds and tree rings for projects in a range of heights and diameters. To have us create a ring for you, select an edging system from our product list, and we'll quote you on having your ring made to size.
Since the lengths of FormBoss® steel are 2.44m long, we have standardised sized rings that are the most economic diameters. One complete length rolled works out to be 777mm diameter. One and a half lengths rolled is a 1165mm diameter. If you're after a two length circle it works out to be a 1554mm diameter. If you don't want these set sizes then we will make it up to your specification.
We charge per length rolled, not per circle.
Our rings work out very reasonably priced compared to alternatives.
Diameters we will work with: 580mm through to 3108mm (above 4 lengths is easy to do on site, if having difficulty, check out the rubber forming strip on the FormBoss® website. )