Peards AlburyLandscape Supplies
Artificial Turf Accessories & Urine Remover
P-OFF™ Infill For Pets
Simply the best odour control for synthetic turf
Smell Fresher – Stay Cleaner – Feel Cooler
We all love our pets and want them to be able to enjoy our shared space but ammonia produced by pet urine can cause your synthetic turf to smell, this has put some people off from installing artificial grass. All Seasons Synthetic Turfs P-OFF Infill For Pets, when installed on top of your new lawn as an infill, will prevent the ammonia turning into gas which can produce a nasty odour.
Pet urine can build up in the sand infill and underneath in the cracker dust base, over time causing the gas from the ammonia to release in to the air and produce the strong smell of urine, if untreated.
The P-OFF Infill For Pets will absorb the urine on contact, which means the ammonia will be absorbed and reduce build up in the synthetic turf backing, sand infill or base material.
P-OFF Infill For Pets absorbs and slowly releases moisture, so when hydrated will reduce the surface temperature of your lawn over a few days until re-hydrated.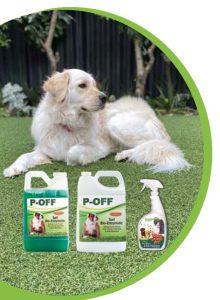 P-OFF™ Powered by ProVet Logic Professional
Bio enzymatic Synthetic Pet Turf & Floor Cleaner, Deodorizer & Drain Maintainer
Economic, easy to apply concentrated Bio-Enzyme
Simple application using spray gun or pump spray, leave for 3-5 minutes then rinse thoroughly
Controls toxic ammonia
Used in conjunction with Silverback Lawn and P-Off Infill For Pets will have maximum results
Recommended by leading manufacturers of Synthetic Lawn
Recommended by Vets Worldwide
See www.p-off.com.au for directions for use