Supplying Albury, Wodonga and surrounding areas
Peards Albury Landscape Supplies
We supply an extensive range of landscaping supplies from soil, mulch and aggregate right through to pavers, retaining walls and courtesy trailers to assist with improving your homes landscape.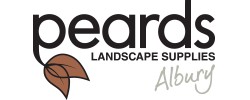 Peards Albury Landscape Supplies is here to supply the Albury/Wodonga and surrounding areas. A supplier of premium sands and soils. Over time Peards has developed into a full landscaping supply centre, supplying top quality Red Gum Firewood and many other premium landscaping and building products.
We pride ourselves on exceeding our customer's expectations with timely service, a large fleet of courtesy trailers and efficient deliveries.
We stock a range of products for paving and retaining walls, including our own brand Trojanstone Concrete Sleepers and Pavers.
Whether you're a keen gardener, a DIY renovator or you're a professional tradesman or tradeswoman, you'll find its worth visit to Peards Albury Landscape Supplies.
Borella Road, East Albury NSW 2640