Peards Albury Landscape Supplies
Stakes, Pickets & Survey Pegs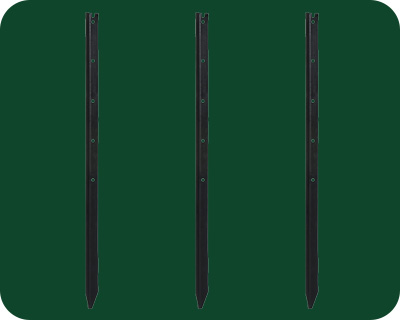 Star Pickets
Our star pickets are available in 5 different heights: 600, 900, 1200, 1500 & 1800mm
They are a cost-effective solution for most applications from hobby farms and smaller rural properties, to home and DIY use. Perfect for building a fence to a budget & industrial applications.  One end is pointed so the steel post can be more easily hammered into the ground, and the other end is flat to suit the hammer. Holes are pre-drilled along the length of the post to allow wires to be attached to the picket for fixing to Temporary Fence, Barrier Mesh etc
Star picket clamps and corner brackets. Used mainly with timber sleepers to clamp star pickets to timber sleepers and produce a 90 degree corner. Sleeper Stakes are easy to use staking solution for timber sleepers. These are available in flat or corner configuration for single sleeper height garden beds and edging.
Hardwood Stakes/Survey Pegs
Used for retaining timber edging and landscaping set ups.
Great for securing timber borders for raised garden beds, vegetable patches, sandpits and play areas. No digging holes and no concreting is necessary. The hardwood stakes/survey pegs can be hammered directly into the ground saving you time and money. The chiselled point is designed to go straight into the ground making it easy. They are also long lasting and highly durable.
Comes in three sizes:
Small 300mm
Medium 450mm
Large 600mm